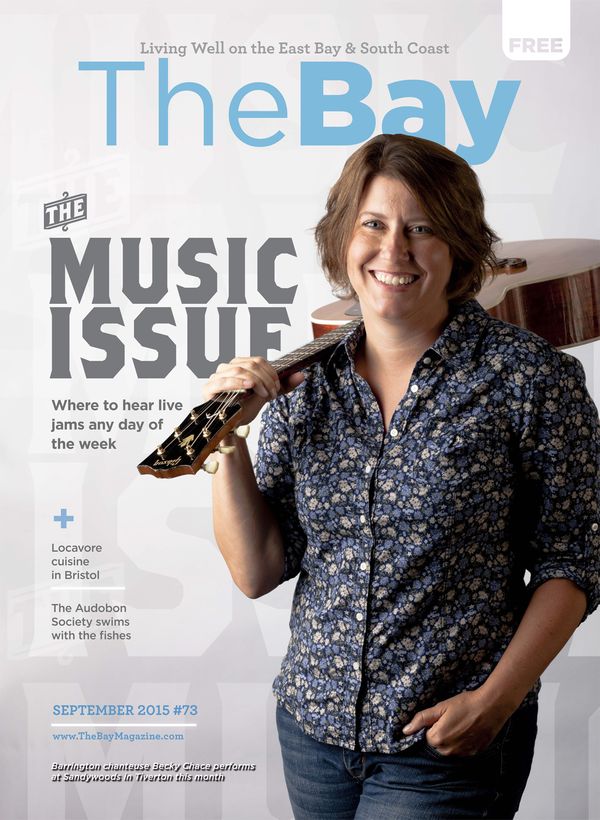 "Whether Becky Chace's songwriting is swaying more towards the country, blues, folk or roots rock end of the spectrum, there's no mistaking the heart and soul in her rich, visceral vocals." The Bay, December 2013
AWARDS
The Providence Phoenix awarded Becky Best Female Vocalist 5 Times, 2000-2003, 2005 and Best Folk Singer/Songwriter in 2006.

Becky and her band also received Phoenix Awards for Best Local Act, Best Song for "St Joan", and Best Local Album for "Take Your Shot" in 2002.

In 2006, Becky took 3 Motif Magazine Awards for Best Local Roots Act, Best Singer/Songwriter, and Best Female Vocalist. 
PRESS HIGHLIGHTS
"Her voice is soulful and powerful, but there's a vulnerability and intimacy that's intriguing and really lovely." - Alexis Dow, The Patriot News (Harrisburg, PA)
"One of the influences Rhode Island-based musician Becky Chace most prominently mentions is Bruce Springsteen, and it's easy to understand why: Her music shares his knack for social commentary, his straight-ahead style and, in many cases, his pop sensibility." - Greg Wyshynski, The Connection Newspapers (Alexandria, VA)
"Becky leaves herself open in her music in many respects, and that intimacy creates the potential for genuine human connection. She does this throughout Rescue as she has in the past." - Jim Vickers, Motif
"The second disc from this talented Rhode Island band is a stunning collection of original roots rock, folk, and blues...This album is definitely worth a listen." - The Boston Globe
"Chace's self-assured demeanor fits well with her sound: a broken-in, gravelly alto that croons of rough-and-tumble turns through heartbreak and the wandering life of a folkie as much as it sweetly sounds the strains of love and friendship." - Jennifer A. Salcido, The Kent County Daily Times
"Has someone seen the future of rock and roll and her name is Becky Chace? Well, there seems to be a strong argument for it, and Chace herself strives to put on a show of Bruce Springsteen caliber." - Charlene Arsenault, Worcester Magazine
"Becky and her band have good songs and a romping in-your-face stage presence that give the whole act an emotional kick. Check 'em out." - Bob Bell, Manager, Roomful of Blues.
"The Becky Chace Band has no shortage of versatility or energy. They shine, regardless of the style being approached." - James Sharp, Southbridge Evening News
"Chace, with co-writers Minisce and Annunziata, write and perform soulful,heartfelt material, full of vivid imagery, empathic lyrics, and tough but understated playing." - Bob Gulla, The Providence Phoenix
"Take Your Shot is richly textured without being all over the map. To these ears, the group sounds like a graduate from Neil Young's School of Musical Chemistry as lots of ideas nicely flow together on the band's new CD." - Scott McLennan, The Worcester Telegram and Gazette
"The Becky Chace Band is on the rise. Their fan base is expanding and they've developed a signature rock 'n' roll sound with a dash of country, roots, blues and pop." - Meaghan Wims, The Newport Daily News
"The new album is sure to add steam to the already heady progress of the Chace career. (T)his disc's songs achieve more of an all around rock 'n' roll sound....Chace might be compared to some delightful combination of Bonnie Raitt, Joan Osborne and Mary- Chapin Carpenter." - Jay Miller, The Patriot Ledge
"Their Take Your Shot CD showcases a band capable of playing any kind of musical form and venue, from the smokiest blues joint to a Broadway stage -- the opening of "Liquid Courage" recalls Julie Andrews in her prime." - Brian Goslow, The Worcester Phoenix
"Rhode Island's all-purpose, chanteuse-fronted Becky Chace Band. Chace sautes her folky and melodic inclinations with elements of blues, country and solid rock, and the esults are damned captivating." - Rich Koster, The New London Day.com
"Woman Blues flexes (a) blues style, with smoky guitar work and Chace in a sultry singing voice that emotionalizes confidence" - Vaughn Watson, The Providence Journal
"Her voice... as versatile as any woman you'll hear on the radio today...at times delightfully easy on the ears, also fires up the live crowds with a bluesy enthusiasm that continues to win new fans far outside of her native city of Warwick." - The Providence Phoenix upon Becky Chace being named Best Female Vocalist
"The Becky Chace Band combines pop/rock, blues, and country in a way that begs comparisons to female rock royalty like Bonnie Raitt and Melissa Etheridge, but is fresh and original at the same time." - Mick Emmett, The Noise
"Becky has the voice of an angel who just got her heart ripped out by the devil." - Pete Dodd, The New Haven Advocate
"The Becky Chace Band take their squealing guitars and galloping rhythms and pair them with Chace's smoky, sassy vocals. She's got so much attitude, no matter what she's singing about, she always seems to have one hand on her hip." - Kali Holloway, Listen.com
"Becky's voice is an awesome blend of Melissa Etheridge and KD Lang, mix it up with a little Roy Orbison, and you've got one hell of a vocal treat." - MP3.com quoting WomenInProduction.com
"There are so many things to get excited about for BCB, it's hard to pin down what the highlights of their year has been." - The Providence Phoenix upon the Becky Chace Band capturing four awards in the 2001 Best Music Poll
Chace's subtle 'Staring At The Sun' was several testimonials at once: to her talent as a singer-songwriter; to the potential of all the artists that Hear In Rhode Island sets to uncork; and to the warmth of the day." - Vaughn Watson, The Providence Journal
"'Play Me' is a polished collection of rock and pop songs with a variety of flavors... Chace's voice is a full-bodied alto with the warm tone of the best folk artists, but also the lived-in quality of the most compelling rock and blues singers...[her] lyrics are simple, direct, and affecting." - Jay Miller, The Patriot Ledger
"Some fine singer / songwriter fare from Becky Chace. From the straight-up blues of "Empty Side of the Bed" to the acoustic strains of "The Wrong Door," Play Me showcases a talented artist very comfortable in her craft." - Northeast Performer
They had a tight, rock sound with hints of blues, country and even some early Beatles. The four-piece band is led by the incredible voice of Becky Chace. She undoubtedly has had and will continue to have countless comparisons to Melissa Etheridge." - Steve Carlson, The Deadhorse